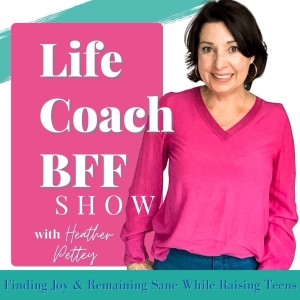 Tuesday Jun 21, 2022
Hey Mama, There is ZERO Time for Self-Pity; God Will Give You the Energy to Run the Race While Raising AMAZING Teens!
Hey Y'all! Let's talk about "running the race" from a biblical perspective!
Thank you for being the best listeners in the podcast universe...SERIOUSLY!
I love you,
Heather 
Contact BFF Heather: Heather@HeatherPettey.com
Join Membership Group- CLUB BFF
Voice Message: 901-308-7110
Leave a thought or question and verbal permission to read on air. Otherwise, the host will read for you!
Instagram @lifecoachbff
Facebook @lifecoachbff
Private Facebook Group: We Are Your BFFS
The best way you can thank me for the free content in this episode, is to rate and review the show on Apple! 
*Quick Disclaimer- I'm a coach and not a therapist. Always seek the support of a therapist for clinical mental health issues.
Hebrews 12:1
Comments
(0)
To leave or reply to comments, please download free Podbean or